Teleogryllus oceanicus
Rapid Convergent Evolution in Wild Crickets, Study - News of the World
Male crickets chirp. They do it to attract a mate, so it's hard to imagine how they could evolve to
lose
the ability to chirp. But, of course, evolution has no need to be obviously intuitive and an environmental change which produces intense selective pressure can produce some surprising solutions. And, as there is more than one way of achieving the same thing, there is no reason why evolution should take on particular path and not another.
This was illustrated by a recent phenomenon seen in a species of Hawaiian cricket,
Teleogryllus oceanicus
, which on two islands in the Hawaiian archipelago have fallen silent, following an infestation by a parasitoid fly,
Ormia ochracea
. This fly uses the male cricket chirp to locate its victims and lay an egg on them. The grub then burrows into the body of the cricket, killing it within a week. The behaviour
T. oceanicus
had evolved to ensure continuation of its genes has provided
O. ochracea
with an opportunity to improve the success of its genes instead, and at the expense of those of
T. oceanicus
. There is no compassion in mindless evolution.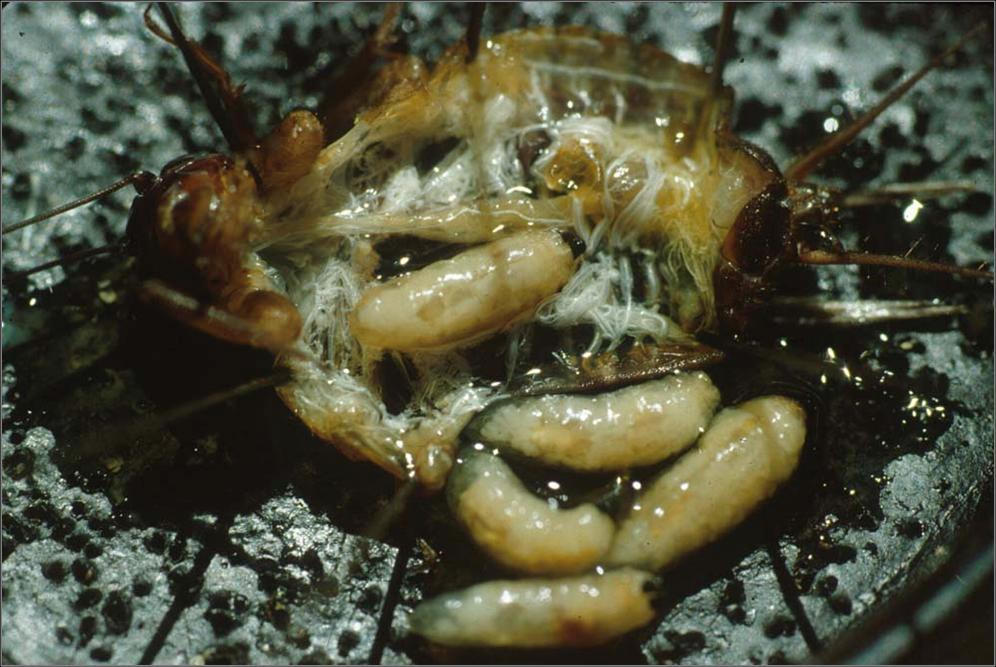 T. oceanicus parasitised by O. ochracea
This intense selective pressure in turn gave an advantage to mutant male genes which keep them silent by producing the 'flatwing' phenotype in which the sound-producing structures are erased. This was observed first on the island of Kauai and then, two years later, it appeared on the island of Oahu. The mutation was first thought to be the same and to have migrated between the islands having arisen first on Kauai, but closer research by Sonia Pascoal of the Centre for Biological Diversity, University of St Andrews, St Andrews, UK, and colleagues, has revealed that we have not one case of rapid evolution caused by an environmental change giving intense selection pressure, but two. The same phenotype is due to mutation at different loci on sex-linked chromosomes on each island as the two isolated gene-pools converged on the same solution to the same problem by two different routes.
Are there any proponents of intelligent design prepared to offer an explanation of why an intelligent designer would produce two different solutions to an identical problem given identical starting positions, leaving aside why an intelligent designer would have intelligently designed the problem in the first place?
Reference: Pascoal, S. et al; Rapid Convergent Evolution in Wild Crickets; Current Biology, 29 May 2014. http://dx.doi.org/10.1016/j.cub.2014.04.053

'via Blog this'
---