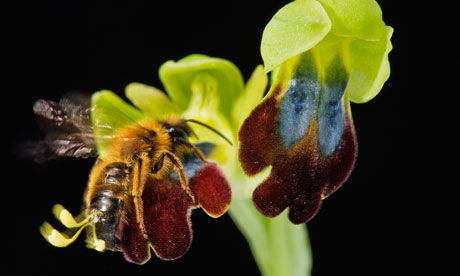 This is my last blog for a while on the fascinating topic of mimicry in animals and plants. Previously I wrote about Batesian and Müllerian mimicry in
Copycat Evolution
and
More Mimetic Evolution
where a harmless species comes to resemble a harmful one and so gains protection from a predator which has learned to avoid the harmful one (Batesian), or two harmful species come to resemble one another and so gain from the evolutionary 'spade-work' of the other (Müllerian).
Now I'm going to look at another form of mimicry where (usually) a plant deceives another species into thinking it's something else, not to repel or avoid it, but to attract it. Almost invariably this improves pollen or spore distribution so it's not hard to understand how any improvement in this system gave the plant an advantage and so natural selection favoured it.
Perhaps the most famous are the orchids which resemble female bees or wasps to attract males of the mimicked species which try to mate with them. In doing so, the bees pick up a packet of pollen (a pollinia) which they deposit on the stigma of the next flower they try to mate with. There is also selection pressure on the orchid to resemble their 'victims' more closely and other species less closely otherwise there would be a good probability of the pollen being carried to the wrong species. So, different species of orchid tend to specialise on one type of bee or wasp.



Mirror Bee Orchid - Ophrys speculum

Bumblebee Orchid - Ophrys bomybliflora

Sombre Bee-orchid - Ophrys fusca



Yellow Bee-orchid - Ophrys lutea

Source: Wikipedia - Ophrys