Baka pygmies, West Africa
African pygmies evolved their short stature twice - health - 18 August 2014 - New Scientist
A paper
published in PNAS last month is interesting for what it tells us of human evolution and of evolution in general, and it raises a major question for creationist loons to carefully avoid.
Significance

Tropical rainforest hunter-gatherer populations worldwide share the pygmy phenotype, or small human body size. The evolutionary history of this phenotype is largely unknown. Here we studied DNA from the Batwa, a rainforest hunter-gatherer population from east central Africa, to identify regions of the Batwa genome that underlie the pygmy phenotype. We then performed population genomic analyses to study the evolution of these regions, including comparisons with the Baka, a west central African rainforest hunter-gatherer population. We conclude that the pygmy phenotype likely arose due to positive natural selection and that it arose possibly multiple times within Africa. These results support longstanding anthropological hypotheses that small body size confers an important selective advantage for human rainforest hunter-gatherers.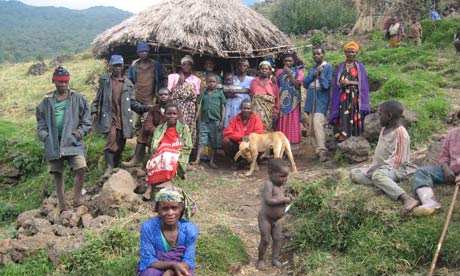 Batwa pygmies, Uganda
The study found that two different groups of African pygmies had evolved independently. Examining the DNA from 169 Batwa pygmies from Uganda with that of 71 Baka from West Africa, the team found there was no overlap, showing that they had not acquired their short stature from a common ancestor. The team concluded that pygmyism had evolved at least twice and possibly multiple times due to positive natural selection in an environment which favoured small stature.
Quite what that advantage was is not certain but it could be, for example taking less energy to hunt in conditions where there are low branches such as in the rain forests where pygmies are normally found. It could also be an adaptation to an environment with many life-limiting hazards making it an advantage to stop growing and reach sexual maturity earlier.
If you're short, you find it much easier because you're bending much less to duck under branches. The shorter ones bend over less, sweat less and thereby expend less energy.
Luis Barreiro, University of Montreal, Quebec, Canada
Interesting though this is, it's easy to understand from an evolutionary point of view. The same or very similar environments acting on genetic variation will tend to converge on similar solutions to the same problems. What is not predictable however, is the precise nature of that variation given the randomness with which it arises. Anything which conveys an advantage in terms of the number of descendants will tend to be selected for and so will increase in the population.
There is no reason why the same genes or the same alleles of those genes should be involved in different populations so long as the effect is the same, and with about 16 areas of the human genome being associated with small stature, there is plenty to choose from. There are many ways to skin a cat and evolution has no preconceived notions about the best way to achieve it.
However, to fit these facts into an intelligent design model is a big problem for creationists. Why would an intelligent designer design multiple solutions to the same problem, or rather use multiple ways to achieve the same result, especially given exactly the same starting position?
Any creationist willing to solve this conundrum and suggest an explanation which is better than the scientific, Darwinian one, or is it to be ignored again like so many similar problems for the crackpot, evidence-free notion of intelligent design?
---
Tweet Link